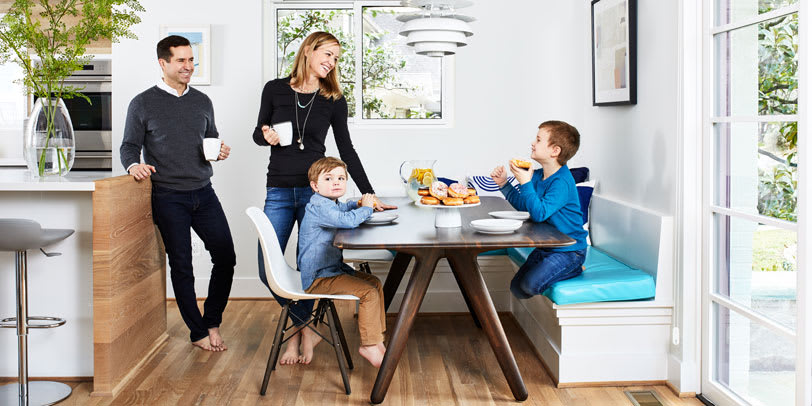 Erich and Amanda Cabe with sons Brooks (left) and Maxwell in their renovated kitchen. Photo by Stacy Zarin Goldberg
Americans spend more than $400 billion a year on residential renovations and repairs, according to the Joint Center for Housing Studies of Harvard University. Additionally, 69% of homeowners nationwide who contributed to the Zillow Group's 2019 Consumer Housing Trends Report said they did some kind of home improvement project in the past year, with landscaping, the installation of new appliances, and interior painting is the most common.
"There are a number of triggers that will make a person want to remodel—needing more space, an expanding family, improving curb appeal, safety issues. Any one of those is going to have someone in the market to remodel," says Sean Mullin, director of design at Cabin John-based Anthony Wilder Design/Build, which works with homeowners on projects ranging from powder rooms to custom homes.
"Our typical client is overinvesting in their home because they are going to be in it longer than five or 10 years," says Mullin, who cites kitchen, bathroom, and landscaping renovations as projects with the highest return on investment. "If people tell us that they are going to be moving in five years or less, we tell them, 'Don't do anything to the house. Put a fresh coat of paint on it and get it ready to sell.' "
Though the cost of home improvements varies according to the scope of work and design plans, the National Association of the Remodeling Industry found that nationally in 2019 the average complete kitchen remodels cost about $68,000, a bathroom remodel ran about $32,000, and the average whole house remodel was priced at just over $269,000. Locally, those projects often are more expensive, according to experts. Washington, D.C.-based Impact Remodeling and Construction estimate that in the D.C. area the average remodeling costs are $75,000 to $95,000 for a kitchen, $350,000 to $450,000 for a two-story addition, and $300 per square foot for a whole house remodel.
Adding to those costs is the expense of renting temporary housing for the duration of the construction. Then there's the stress of the process. "It could be a painful six, seven, eight months," Mullin says. "It's a big roller-coaster ride, but once it's done, all of that goes away and you get to enjoy the space."
Ultimately, the Cabes decided in 2017 to remodel their Tulip Hill home with the help of Wilder and his team. But before knocking down walls and pulling up carpet, the Cabes looked at other houses in and around Bethesda. "There's some excitement to a fresh start or new beginning," Amanda says of her initial interest in moving. "There's a part of me that thought that it would be fun to do that."
The family's plans were impacted by another factor: Their younger son was undergoing treatment for lymphoma; he was diagnosed when he was 17 months old. "There was a need to have something to be excited about," says Erich, recalling his son's treatment, which involved chemotherapy and long hospital stays. "Those were dark days."
Once their son, who is now in remission, went into the maintenance phase of his treatment, in which his therapy was less intense and his immune system was less compromised, the family entered a period where they "could breathe and start to live more normally," Amanda says. "There was a sense of accomplishment and relief. It was a time for cautious celebration."