In 2015, as Kevin Batteh's three children approached school age, the realities of living in the District's Shaw neighborhood — from the lack of parking to small yards and busy streets — became more difficult to ignore.
So Bath, who envisioned his children playing on a cul-de-sac and walking to school, set out in search of a neighborhood that better fit his ideal.
He landed, after a tedious search, on the District's Forest Hills neighborhood near Rock Creek Park.
"We lived in Shaw for 15 years and we loved the neighborhood but we were at a stage in our lives where we wanted a front and back yard and a place where our kids could ride their bikes in the street," said Batteh.
"Forest Hills has a suburban kind of feel, but you still have the benefits of city living with bigger lots and more space. We don't have to stress about where we're going to park our car when we get home," Batteh said.
[In Arlington, a neighborhood lures back the people who grew up there]
Secluded setting: Situated near Chevy Chase and Connecticut Avenue, Forest Hills, as the name implies, is a leafy, established neighborhood that boasts Rock Creek Park as its back yard, said Erich Cabe, a real estate agent with Compass.
"A lot of potential buyers really appreciate the access to Rock Creek Park and how quickly you can travel downtown. You can walk to the Metro and surrounding parks while still being in a private and secluded setting," said Cabe, who also noted that the community's designation as an official Tree and Slope Protection Overlay District helps protect the character of the neighborhood by limiting the height of buildings and mandating the maximum ground coverage for individual lots.
Ken Sands, who has lived in the late-1970s, 2,800-square-foot, four-bedroom, four-bathroom contemporary on 30th Street in Forest Hills since 2007, said he loves the mature trees and access to great stores that come with living in the neighborhood. But what he relishes most, he said, are his morning commutes because, in a city known for stressful trips to work, he is quick and relatively carefree.
[Virginia's Dunn Loring neighborhood makes it easy to hit the trail]
Sands works in the West End and said he can get to his office in less than 15 minutes, which "by D.C. standards is an excellent commute."
"I've lived in two places in Forest Hills and I wouldn't want to live anywhere else," he said. "The only downside is that for some strange reason people have dogs that bark," said Sands, with a chuckle.
Matthew Dreher, who's lived in Forest Hills for three years, said that he discovered the neighborhood while visiting a friend who lived there.
He was ready to leave his apartment on Capitol Hill and liked the fact that Forest Hills offered easy access to restaurants and that he could walk to a grocery store in five minutes, he said.
The neighborhood, he said, has exceeded his expectations.
"Forest Hills feels like a cross between suburbia and urbanity. It feels like you're separated from the city a little bit, but everything you need is within walking distance. I never expected to be able to walk to a park," he said.
"I really like the neighborhood and my significant other is happy and my dog is, too. If I can keep those two girls happy, then I'm doing all right."
Living there: Forest Hills is roughly bordered by Nebraska Avenue on the north, Rock Creek Park on the east, Tilden Street on the south, and Connecticut Avenue on the west.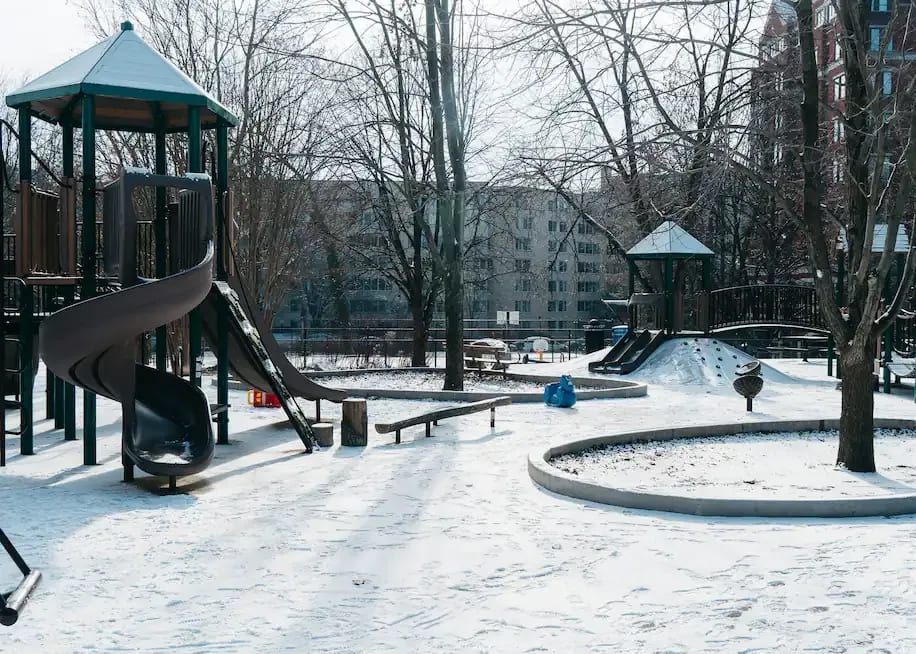 December 30th, 2017 - Forest Hill in Washington, D.C. The Forest Hill Playground in the Forest Hill neighborhood of Washington, D.C.. Justin T. Gellerson for The Washington Post (Justin T. Gellerson/For The Washington Post)
In the past 12 months, 29 properties have sold in Forest Hills, ranging from a 1,725-square-foot, three-bedroom, three-bathroom rambler for $851,000 to a 7,390-square-foot, five-bedroom, five-bathroom Colonial for $3.7 million, said Cabe, the real estate agent with Compass.
There are two homes for sale in Forest Hills, a one-bedroom, one-bathroom condominium for $275,000 and a 3,500-square-foot, five-bedroom, five-bathroom Colonial for $1,399,000.
Schools: Ben W. Murch Elementary, Alice Deal Middle, and Woodrow Wilson High.
Transit: The Van Ness-UDC Station on Metro's Red Line serves Forest Hills. Metrobus's H2, H3, H4, L1, L2, and L4 routes also serve the community.
Crime: In 2017, there were roughly 15 burglaries, 10 reports of stolen automobiles, six robberies, and six assaults in the police service area that includes Forest Hills, according to D.C. police.